Guidelines for oral presentations
Invited Review talks will be given 20 minutes to be used entirely for the talk. Questions can then be posed to the speaker during the discussion period at the end of the oral session.
Contributed talks will be given 12 minutes. We encourage speakers to follow the rule of 9+3, with nine minutes for the talk and three minutes for questions and transition between talks. Further questions can be posed to the speaker within the discussion period at the end of the session.
For virtual attendees – There is no requirement for pre-recorded talks. All speakers attending virtually are strongly encouraged to give their talk live through our zoom session and remain online to participate in the discussion period.
For in-person attendees – Bring your presentation on a USB memory stick to upload to the laptop at the podium. Morning speakers must have their presentation uploaded before the talks start at 9:30 am; afternoon speakers can upload their presentations at the beginning of the lunch break (if not earlier).
Guidelines for poster presentations
Posters will be presented as both print and virtual. Both display modes will work best with landscape.
All print posters (for both in-person and virtual attendees) will be displayed on boards in the lobby of the LASP building. For print posters, maximum size is 56" width by 42" height.
Attendees will be responsible for making sure their poster arrives before the start of the meeting on Tuesday, August 10. Here is an optional online service for printing and shipping posters:
https://postersmith.com/
Shipping address
Titan Through Time
c/o Dr. Paul Hayne
Laboratory for Atmospheric and Space Physics
Space Science Building (SPSC)
University of Colorado
3665 Discovery Drive
Boulder, Colorado 80303
Virtual posters will be displayed in our Gather.town conference center. All registered attendees will be sent an invitation and password to the Gather.town space by the start of the meeting (Aug. 10). All poster presenters should email
Erika Barth
an image file of your poster – maximum file size is 5MB, you can submit a PNG or JPG file.
---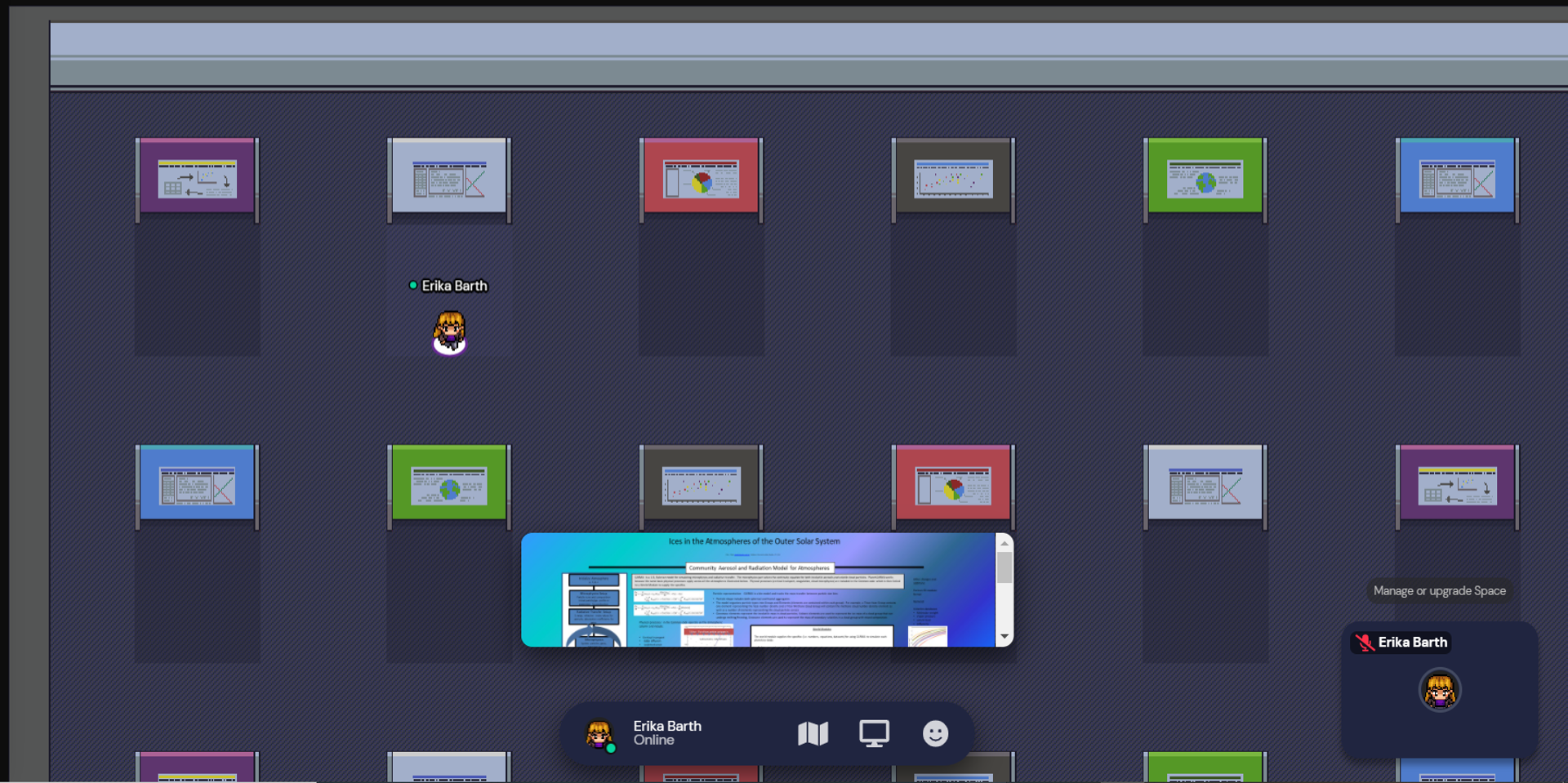 Poster room at the Titan Through Time virtual conference center. Walking up to a posterboard will display the small preview image. Click the x-key when on one of the darker squares in front of the poster to view a full-screen version. There is a laser pointer and zoom (can zoom in twice) button for viewing the full-screen poster. The darker squares in front of each posterboard are areas where attendees can view and discuss the poster together.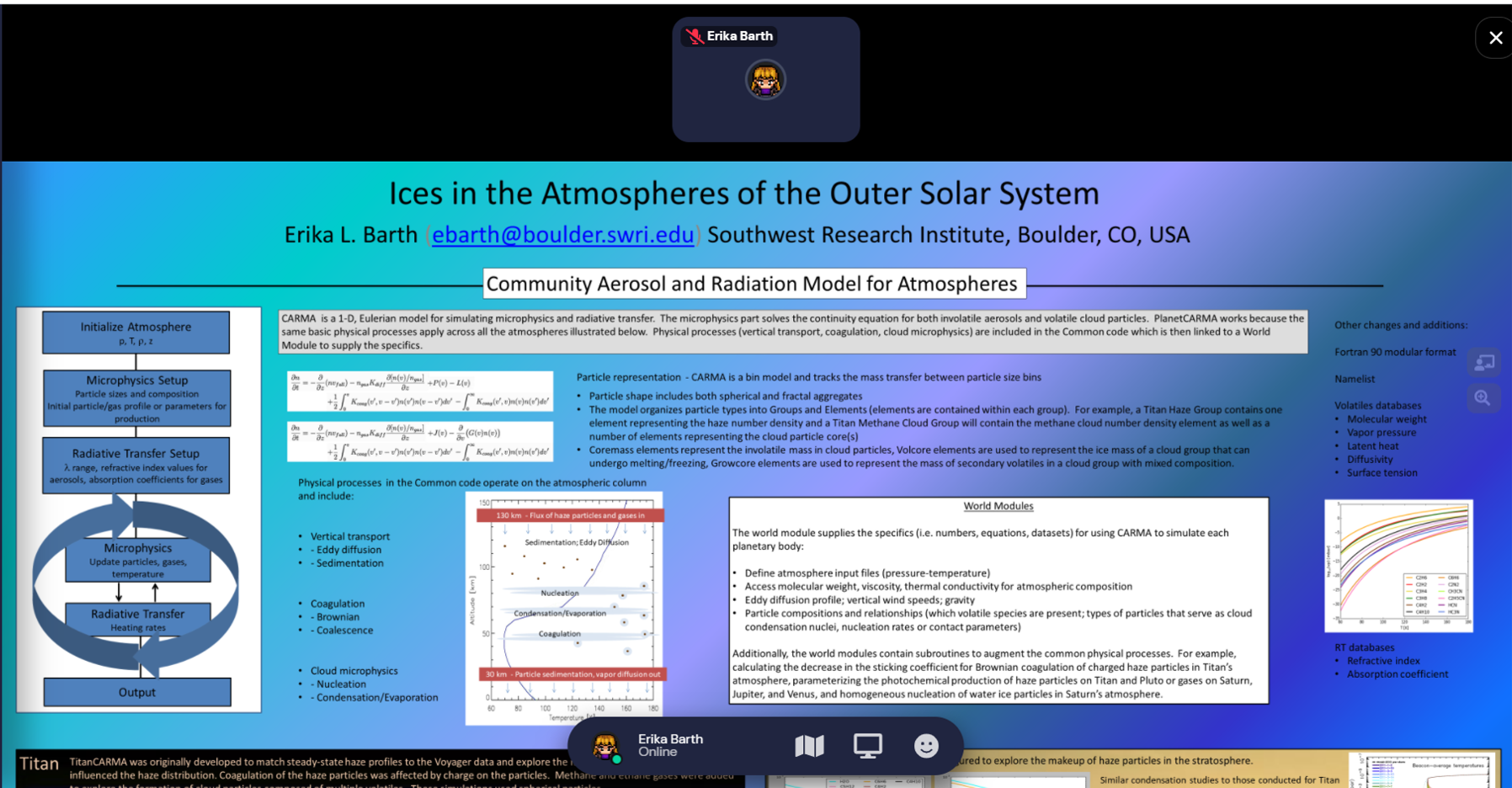 Full-screen poster display. Use the mouse to grab and move the poster to look at different sections. Click on the buttons at the middle right of the display to use the virtual laser pointer or zoom in.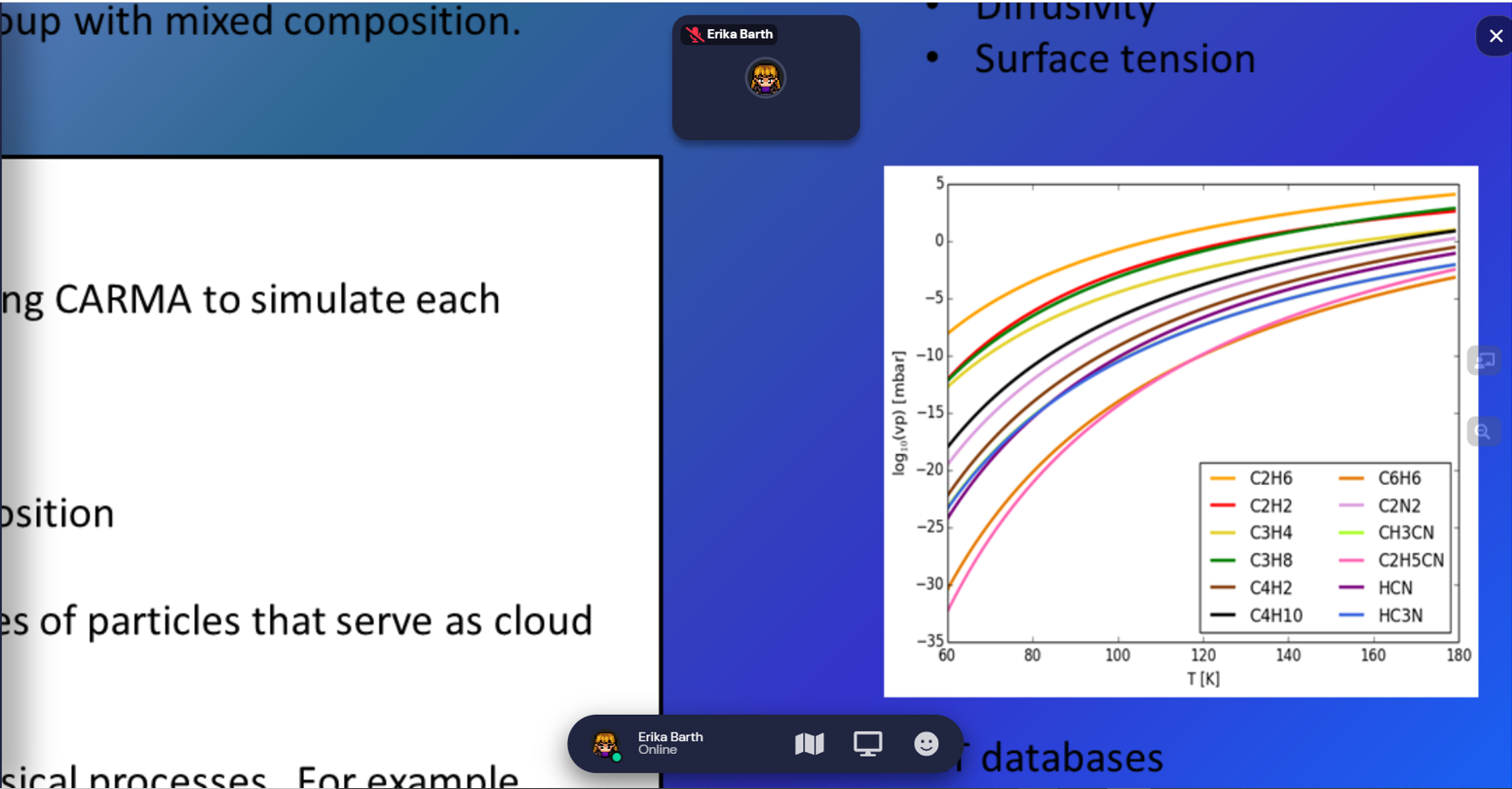 Full screen poster display at full zoom.